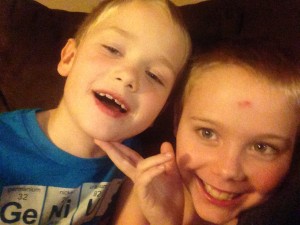 "Onomatopoeia! Onomatopoeia" Sam sing-songs excitedly, and Jackson giggles hysterically while holding Sam's mouth close to his ear so he can take in every syllable of his current favorite word. The 7-year-old, younger brother briefly runs into the kitchen to earnestly ask, "Mom, do you think if I keep saying the things Jack likes to hear, he'll know that I want to take care of him, and he'll always want to stay close to me?"
These are the sweet moments that stab me deep and make me proud at the same time. My heart swells when I think of my precious family and how God has knit us together. It is for these moments, I am most thankful today.
Yesterday I was pondering this as I filled out a questionnaire for an autism study on families. The question asked, "What kind of therapies have you used with your child?" How do you classify a 7-year-old's dogged determination to connect with his brother until they both laugh out loud? How do you record in medical terms what happens when littlest brother sends him into a meltdown? Because that's when his teenage sister takes him into the sanctuary of her bedroom and sings "Just Around the Riverbend" ten plus times until his world turns right side up again. And how do you write in Littlest Brother's sheer pride and joy when Jackson says a new word like "onomatopoeia"? And the 12-year-old kid-magnet who proudly goes to Jackson's school to join him for lunch and makes Jackson famous. "Wow! Are you Jack's sister?" Or the whole-family romps around the living room to Jackson's favorite dance tunes? "Play therapy" sounds like weak sauce when you consider how each of our little therapists' hearts hinge on these tiny connection moments as monumental successes.
Then last week a student asked me, "How does autism affect your family?" The first thing that comes to mind is not how difficult melt-downs are or how tired we feel when Jackson's in a cycle of insomnia, or how we worry about his future. The first thing I think is: How do I put into words the kind of fierce love that I see from Jack's siblings and dad? Would we have ever know such a fierce, selfless, beautiful kind of love if it hadn't been called for, challenged, emptied, and refilled by a loving Father? So, ultimately, I am thankful for the Father who saw fit to bless us with Jackson, and then never, ever left us to figure things out on our own. I'm thankful for the One who always draws near, always gives more when we are empty, and always opens our eyes to the beauty and hope that we have both today and in all the todays to come.
Both comments and pings are currently closed.
5 Responses to ""Onomatopoeia": The Sounds of Thankfulness"